Digital NSW Plone Starter Kit Demo
View on GitHub
Accordion
An accordion is a series of expandable vertical panels, designed to save space on a page by hiding content and revealing it as required.
Simple Accordian
First Home Owner's Grant (New Homes) scheme (FHOG)
Buying or building your first home? You may be eligible for a $10,000 grant under the First Home Owner's Grant (FHOG) scheme.
This grant scheme only applies to buying or building a new home.
You can make a claim if:
your home is newly constructed and has a total value of less than $600,000
the land and the dwelling you intend to build has a combined value of less than $750,000.
HomeBuilder program
If you are building a new home, you could also be able to apply for the Australian Government grant of $25,000. To be eligible you must:
sign the contract between 4 June 2020 and 31 December 2020
commence within 3 months of the contract date.
HomeBuilder complements the NSW Government's existing First Home Owner Grant and stamp duty concessions.
First Home Buyer Assistance scheme (FHBAS)
The NSW Government recently announced increased thresholds for purchases of new homes and vacant land to build a new home from 1 August 2020. The threshold for existing home purchases remains unchanged.
Accordion with expand/contract all
Coming Soon
How-to
After inserting an Accordian Block, you can add, remove or reorder Accordians in the Block settings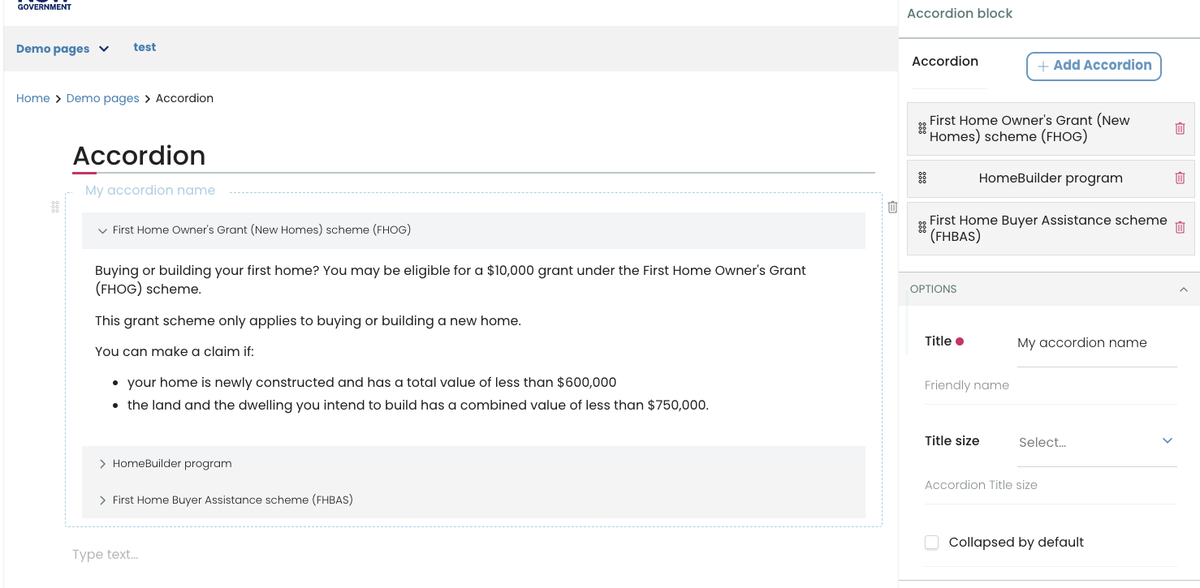 Blocks can be inserted into Accordian Section as neeed and can be dragged and dropped between sections